Place a private ad for a used aircraft
Here you can place your ad for a used aircraft. Please note that this function is only available to private sellers.

Commercial dealers have to register as such in order to place ads.
X
Only GBP 12.95 !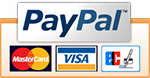 The price for placing your ad is a one-time fee of only GBP 12.95.
Secure payment via PayPal or credit card
Up to 20 pictures per ad
You can modify your ad anytime
More than 230,000 visitors on AirCraft24 each month
Create your ad now!
Please choose the type of aircraft you would like to advertise: