AirCraft24URL - every ad with its own domain name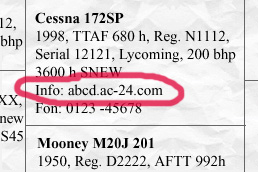 Every ad at AirCraft24.com has its own free domain name - its own web address. After entering this address into a web-browser, visitors will be directly pointed towards your ad.
The AirCraftURL of your ad is very short (for example "abcd.ac-24.com"), so that its fits into a single line in printed ads.
Use the short address of your ad for:
Classified ads in print publications
Inclusion of the link points a potential buyer directly towards the full details of your item.

Link from your own webpages
No need to create the full advertisement yourself on your pages - include the link on your own page and visitors can access your ad.

On the phone
If a potential buyer is calling and asking for pictures or other details, just tell him the AirCraftURL.

Your personal AirCraftURL will be sent to you automatically via email after placing an ad.