Dealer Package Pricing
If you decide to join us after your free trial, you only pay one low all-inclusive membership fee.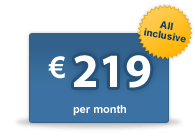 Our dealer-package includes:
Unlimited number of offers
Your own domain and homepage
Data-transfer to other aviation classified sites
Your Top Offers on the AirCraft24 homepage
Customized inventory-list for use on your own homepage
Automatic translation of your ads

All these services will be charged for one low price at only EUR 219,- per month. No additional fees.